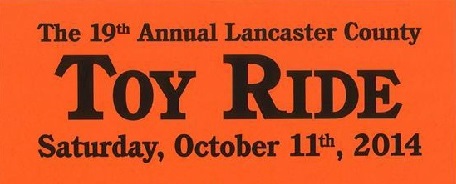 Central PA COC Toy Ride
Saturday, October 11, 2014, the Central Pennsylvania Confederation of Clubs will host its 19th Annual Toy Ride. The COC hopes to exceed previous years and raise at least $50,000 to benefit child patients.
Attorney Jeff Conrad of Clymer Musser & Conrad and many other motorcyclists will ride from Lancaster to Penn State Hershey Children's Hospital to donate money and toys for sick children.
Registration is from 9:00 a.m. to 11:45 a.m. at the AMVETS Post 19, Lancaster, PA. The ride leaves at 12:00 p.m. rain or shine. Registration is $10 per motorcycle or one new unwrapped toy valued at $10.
An all-you-can-eat breakfast buffet will be available from 8:00 a.m. to 11:00 a.m. for $7 per person.