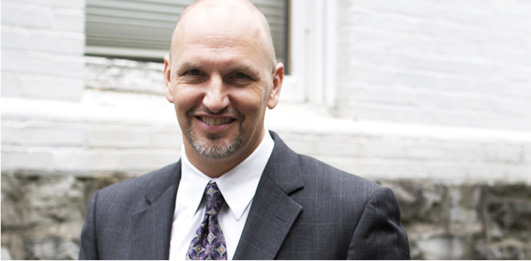 Attorney Jeff Conrad Speaks on Behalf of Client at Press Conference
Attorney Jeff Conrad of Clymer Musser & Conrad, appeared today at a press conference at the Lancaster County District Attorney's office to speak on behalf of his client, Scott Davis, whose accidental firing of his handgun resulted in the death of his 2-month-old daughter.
"On December 24, 2013, my client, Scott Davis mishandled his firearm and recklessly discharged one round.  To Scott's shock and horror, that round struck his beloved infant daughter, Kestyn," said Conrad at the January 6, 2014, press conference.
"The depth of his despair is unfathomable.  He has begged God to turn back the hands of time so that he could prevent this tragedy, but the hands of time do not move backward."
Conrad affirmed that the charges, endangering the welfare of a child, recklessly endangering the welfare of a child, and involuntary manslaughter, are appropriate and that Mr. Davis will be pleading guilty as soon as is logistically possible.
"Who among us would want to be judged by our worst day in life?  Who among us has never made a mistake that, but for the grace of God, would have been tragic?  Scott begs God to forgive him for his actions," Conrad continued.
"Scott and his family are grieving… Accordingly, on his behalf, I beg of you to respect the family's privacy and to allow them to  privately and peacefully grieve the loss of their daughter."
Click here to watch the video of the press conference or read more.